Welcome to the Home Township Library
We will be closed July 3 in observance of Independence Day.  Have a fun and safe holiday weekend. 
The Library will be reopening, for curbside only, June 16!
We will be open Tuesday thru Friday from noon until 5:00pm.  Books can be requested through our website, email, (edm@llcoop.org) phone call (989-427-5241)or Facebook messenger.  Please call before you arrive so that staff have time to collect your requested items.  They can be picked up in the back parking lot.  Let us know the approximate time you will arrive and we will bring the items to your vehicle.  All returned items must be put in the drop boxes.
We will also make copies (.15 for b&w/.25 for color) and do faxing ($1.00 per page)for anyone that needs it.
Can't wait to see everyone and thank you for your patience!
THANK YOU

to our wonderful community for passing the Library millage!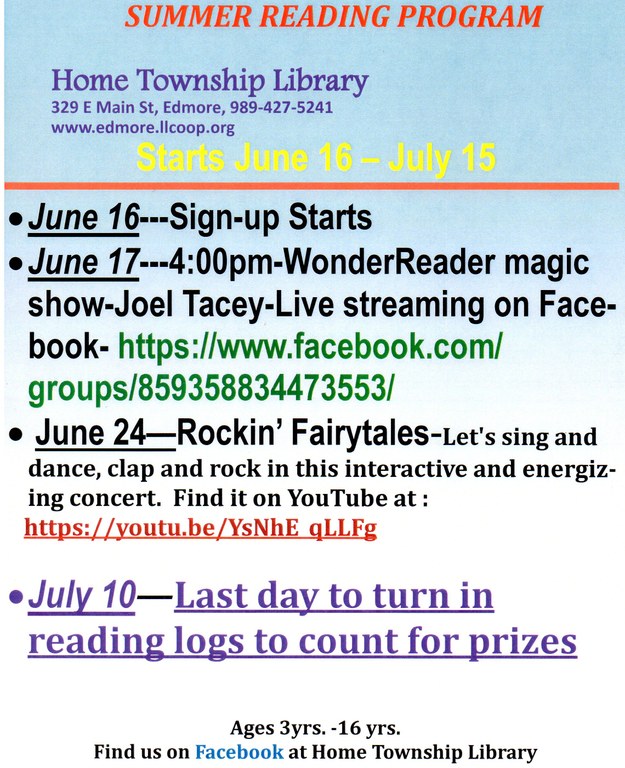 The Home Township Library is located at 329 E Main Street, Edmore MI.  We serve a population of 4,220 people in the townships of Home, Day and Belvidere and we are a  member of Lakeland Library Cooperative.

The library has over 20,000 items including books, magazines, movies, music on CD's and audiobooks. The library has 8 public computers, 7 of which have high-speed Internet access, and free WI-FI available.  We also participate in Overdrive, downloadable audiobooks and ebooks, free to our patrons. Check us out on Facebook at Home Township Library.

Your library resources available anytime, anywhere:
---